Group Rentals
Why Camp Cody?
A combination of great food, a spectacular lakeside setting, tremendous facilities and outstanding customer service make the Cody Outdoor Center the best choice for your group retreat.
You and your group members won't be disappointed.
Delicious Food
Meals at Cody are highly rated by our guests. Cody's chefs are culinary institute trained and make a wide variety delicious meals to ensure everyone finds something special to enjoy. We will also meet any dietary needs that are required within your group.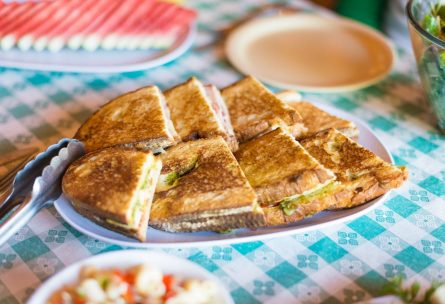 Spectacular Location
Cody's lakeside setting on Lake Ossipee is truly spectacular. Our lake is surrounded by hills and mountains, has natural sand beaches, and our property includes shoreline and woodland walking and biking trails. We're also conveniently located for those wishing to explore the Lakes Region or White Mountains for sightseeing, shopping, hiking, canoeing or skiing.
Convenience
Camp Cody is conveniently located just two hours from Boston. This makes it easy to get away from the city and enjoy a wide variety of recreational activities, including lakeside or woodland walking and biking trails, as well as tennis, basketball, canoeing, kayaking, sailing, windsurfing, sports, and ropes courses.
Customer Service
After decades of hosting all types of groups and retreats, we are experienced in meeting the individual needs of all of our guests and we strive to give them the best possible experience at Cody. Our staff truly enjoy working with our guests.
Happy Customers. Almost every group that visits Cody re-books for a return visit. That's the highest form of compliment and endorsement.
Retreat Center
Heritage
Cody is part of a heritage that goes back nearly 100 years. Our center has been family-owned and operated for three generations.
Location
The Cody Outdoor Center has nearly 100 acres of beautiful lakefront and woodland acres on the shores of Lake Ossipee. Situated on the southern edge of the spectacular White Mountain National Forest, we are conveniently located just 2 hours north of Boston. Cody is open year round and welcoming to all.
Lodging
We offer multiple lodging options all of which are heated and have comfortable sleeping arrangements for your retreat.
Meeting Rooms
Cody has many different sized meeting and breakdown rooms that can host groups ranging in size from 20 to 500 guests. AV equipment and internet are available free of charge.
Recreation
Cody's onsite recreational facilities are impressive. There are tennis courts, basketball courts, hockey arenas, ball fields, biking trails, a full-size heated gymnasium, and an outstanding waterfront offering swimming and boating.
Lakeside Beauty
Camp Cody's beautiful lakeside setting on Lake Ossipee is truly spectacular. The glacial lake, which is 4 miles long and 2 miles wide, is spring fed and has natural sandy beaches. Surrounded by hills and mountains from the White Mountain National Forest, our location is spectacular, all year long.
From swimming, to sailing, to windsurfing and more, your group retreat can take full advantage of the truly outstanding waterfront at Cody. Cody sits on nearly a mile of sandy beachfront on Lake Ossipee, a warm, clear spring-fed lake.
We can provide life-guarded swimming as well as certified waterfront personnel to keep all of your guests safe while making the most of Cody's outstanding waterfront on beautiful Lake Ossipee.
Bang for the Buck
We understand the budgetary constraints of many groups and so the Cody Outdoor Center offers many different packages at great prices to meet your needs. Our goal is to produce an outstanding experience at a great value for our visiting groups.
Availability
We are available for group retreats that can range in size from 15 to more than 500. We host group retreats from late August through to late June and we are open seven days a week. Most visiting groups spend between 1-2 nights onsite, while some stay for 7 continuous nights. We are able to offer both weekday and weekend packages.
Staff
Cody's staff is a wonderful group of individuals from all over the USA and around the world, the majority of whom have been with us for years.
Our staff are also trained in CPR and First Aid to ensure the safety of our guests. By the end of your stay, they will know the names of all of your group members. Our staff love what they do and enjoy working with all of our groups to ensure they have a wonderful and memorable experience.
Our Facility
Why New England
Woodland, mountains and water as only northern New England can deliver, are essential backdrops to making your visit unforgettable. We have them all! Spectacular scenery, warm hospitality and picturesque settings define New England, and our spectacular lakeside setting surrounded by hills and mountains, is no exception. Cody is located on the southern edge of the White Mountains – where New England's natural beauty is seen at its best – set amongst rolling hills, wonderfully inspiring forests, breathtaking mountains and crystal clear lakes.
Tax Free and "Live Free or Die" New Hampshire, is a place to visit for all seasons. With some 300 clean, clear lakes and ponds, as well as countless rivers and streams, the Lakes Region is surrounded by three impressive mountain ranges and has been a vacation destination for centuries. Bring your group for a great weekend to enjoy all that New Hampshire has to offer.
Cabins & Lodges
Cody's Lakeside lodges and cabins are set amidst the surrounding forest environment with lakeside views and modern facilities. Our lodges are of various sizes enabling us to accommodate all groups – whether large or small.
We have several dozen lodging areas all of which are heated, offering comfortably rustic sleeping options for your retreat. The majority of our lodges have 3 different rooms. The rooms on either side of the middle room are the largest areas in the cabins and are set-up dormitory style with bunk beds. These rooms are also equipped with full bathrooms on both sides. The middle chaperone room is smaller and can accommodate up to 4 people. Some lodges offer private chaperone bathrooms with ensuite bathrooms.
Food
Delicious Food. Camp Cody's chefs are culinary institute trained and our meals get great reviews! Whether a weekend college, school or church retreat or hosting a wedding, meals at Cody are truly delicious and plentiful, with options available to meet any dietary requirements.
Our food isn't the only thing that is appetizing, our prices are too. We offer diverse menus at appealing prices for all of our visitors. Cody is guest-friendly, and we happily cater to all dietary needs and provide many options for meals at Cody.
At Cody we typically serve our meals buffet style – with plenty of options available and on display for everyone. We also offer a fresh fruit, bagels, muffins and coffee table and a cereal bar at breakfast. For lunch and dinner there are also additional options available which include a fruit, salad and soup bars, along with a vegetarian option if requested.
We host all ages at Cody and our food is one thing everyone agrees on – it's the best!
Meeting Spaces
Each group visiting Cody is assigned a designated meeting space or spaces (and if needed, break-out spaces) all of which are heated and equipped with full bathrooms.
Our meeting and seminar facilities are also well equipped to meet all of your needs. We have AV equipment if requested, at no additional charge.
The Cody Outdoor Center has multiple meeting areas available for groups, ranging from 20 up to 500. The size of your group will be matched to suitable meeting spaces(s) to ensure that your meeting needs are met.
Services & Activities
Camp Activities
One of the best things about being located lakeside and in the White Mountains is that there is so much to do. At Camp Cody we offer many activities for every season and every age.
During our spring, summer and early fall seasons we are able to offer a wide spectrum of activities ranging from land sports, ropes courses, canoeing, kayaking and campfires.
As the weather begins to change, so do some of our activities. From early fall into the winter, activities can include archery, basketball, frisbee golf, roller hockey, a ropes course, soccer, tetherball and tennis. Another great advantage of Cody is our large heated gymnasium equipped with a fireplace where indoor activities can take place if the weather isn't on your side.
The winter months are also exciting here at Camp Cody. We offer competitively priced ski packages and are very lucky to be located exceptionally close to some of the best ski mountains in the area. We are about ten minutes from King Pine and only a short drive from, Cranmore, Attitash and Bretton Woods.
Team Building Services
The Cody Outdoor Center offers a wide variety of team building and big group activities. Each of these are designed to allow guests who participate to grow as an individual and as part of a team. Our programs reflect a balance of focused activities, outdoor recreation and mental challenges.
Cody's ropes courses are located in the woods of our site and provide a relaxing and safe environment for concentration and focus. The teambuilding course offers six different challenges including a trust fall. These activities are all run by Cody's staff whom have years of experience working on the ropes course along with groups of all sizes.
When our groups are not having a great time on our ropes course they are partaking in big group activities. These are also run by Cody staff and include games such as human knot, back country adventure, sit and walk and ultimate rock paper scissors (for a little extra fun after all the hard work!).
Team building is a great option Cody offers to all groups. It helps students of all ages work together, feel comfortable and get to know one another in a fun, beautiful and stress free environment!
National Forest Next Door
Lake Ossipee is located on the southern edge of the White With the White Mountain National Forest next door, it makes New Hampshire a wonderful place to visit through the year.
There are dozens of hiking trails, rivers to canoe, scenic drives and views, great tax-free shopping, skiing in winter, and many other things to do and attractions to see.
Every season brings something different for visitors to experience and enjoy, making the Lakes Region and White Mountains of New Hampshire one of the top vacation and getaway destinations in the northeast.
Types of Groups
School Groups
Cody hosts many school groups throughout the year, ranging from middle school through high school. School groups come from all over New England and stay from a weekend up to a week.
Some great events that take place at Cody for our schools include retreats, graduations and team building, and especially use of our onsite recreational facilities, and nearby mountains. With our location being in the heart of the White Mountains and on the shores of Lake Ossipee, we are able to offer a beautiful scenic backdrop for a wide variety of school visits.
Being an outdoor center, we are able to offer many activities which help our visiting students develop individually as well as within a group. Our low ropes course is one of our top features which we offer to help achieve these goals. However, during the winter season we are able to utilize our heated indoor gymnasium. Although the activities differ from those outdoors, we take a separate approach in order to meet the same goals for the students.
Middle schools and high schools have been visiting Cody for years. Their experiences have been exceptional and they are always excited to return to us in the future! For many of our school groups, their annual Camp Cody retreat is now a long-standing tradition!
College Groups
We work closely with scores of colleges and universities throughout New England. Our center provides the perfect combination of great value, facilities, food and setting, to ensure enjoyable meeting, recreational, educational or team building programs for students. This is achieved through our experience, attitude and value.
Our prices, convenience, and overall value make student group visits an achievable and affordable option for college retreats. College retreats at Cody provide the advantage of working in a special environment different to college, as well as the social aspects of group living, teambuilding or training.
A full team building and challenge program, a supervised waterfront and ample opportunities for groups to indulge in a range of sports or to relax away from all the hustle and bustle of college life. Add to this a spectacular location and great food, and you have many of the reasons why almost every college group or organization we host, returns year after year. This long tradition of hosting college organizations throughout all four seasons includes groups from MIT, Boston College, UNH, Harvard and Boston University, each returning year after year.
Religious Groups
Cody specializes in hosting religious retreats for all denominations, religious education events, meetings, camps and gatherings. The Cody Outdoor Center is perfect for Youth or Adult retreats, with multiple meeting rooms of different capacities, all located on our spectacular lakeside setting.
Cody has a wide range of recreational facilities that include: tennis courts, indoor and outdoor basketball courts, hockey arenas, winterized gymnasium, ball fields, walking trails, biking, archery, and an extensive waterfront with canoeing, sailing, and windsurfing.
With two low-ropes and challenge courses online at Cody, we are fully equipped to work with small and larger groups looking for a team-building element to their visit.
Groups can also use Cody as a base to hike or ski local mountains or visit the local high-ropes center. In addition to using all the great resources onsite at Cody.
Cody offers great value, facilities and resources at a spectacular location, and almost every organization that visits Cody returns year after year!
Winter Ski Trips
During the winter months, we take full advantage of our White Mountain location offering one of the best ski packages in New England. We offer one and two day ski packages with Attitash, King Pine, Cranmore, Black Mountain and Shawnee Peak resorts. Packages include 2 nights accommodation, 2 breakfasts, and 1 dinner at Cody and skiing at any of the mountains in the area.
Our fully heated lodges and meeting areas mean that groups with an indoor focus to their visit are well looked after while still enjoying our excellent food and hungry skier-sized portions.
The natural beauty of the frozen lake and the snow covered grounds make our site a must for ski groups and non-ski groups alike.